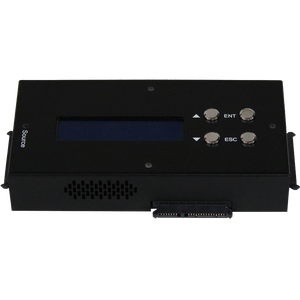 Description:

Acumen Disc™  has done it again!
Hard Drive Duplicator up to 300mb/Sec duplication speed!
The newly introduced Mini Hard Drive Duplicator offer a convenient way to quickly clone your hard drive. Especially it is a quick one target machine meaning you can make duplication out  of your original drive.
Fits in the palms of your hand that you can take with you wherever you go. Just don't forget to take the SATA cables and power cord, you'll be ready when you come across in the needs of duplicating hard drives.
Compact size and all functions you need in a Hard Drive Duplicator features as a stand alone machine. So you do not have to connect it with a computer. You can just simply plug in the source drive and the target drive(s) into their respect slot and with a press of a button, you hard drive will be duplicated. 
It is even better that Portable HD Mini Hard Drive will arrive to you as ready to use. You don't even to go through any hassle of initial setup. Using this machine is just as easy as a press of the button.
And of course, the best benefit of being a portable gadget is that you can carry it any where you go. It also feature a sturdy case that help to protect the unit from impact during travel. 
Oh, it's way reliable and have more functions than a traditional docking station that relies on USB 3.0 cable
Three Advantages  True Imager will be able to accomplish over a traditional disposable Docking Station:
1. Faster Copying Speed without the need to connect to PC:
This new series will produce mirror images of 2.5" or 3.5" SATA HDD (Hard Drive Disk) / SSD (Solid State Drive) as it copies the data sector by sector from the source drive to the target drives simultaneously as it supports all brand, operating system or format of the drives. 
2. Copy and Compare Mode:
The copy modes include partition and boot sector information for a perfect clone. Acumen Disc™'s High Performance HDD Duplicators have 3 different erasing data mode as this feature has been added to ensure that there are no trace of content left behind and for the consumers security and give users a peace of mind.
3. DoD Erase Functions (3 different erase modes):
Acumen Disc™'s hard drive systems are superb problem solvers for business, education & government where duplicating existing hard drive data needs to be accomplished in minimal time.
Please Note: Adapter is needed for SSD and 2.5" HDD to be inserted on 3.5" HDD slot ( included in the duplicator).
Key Features:​​
Up to 2 targets Duplication in this compact machine
Standalone system; no computer required
No warm-up and cool-down
User friendly interface and simple operation
Support most file formats, file size, and drive capacity
High speed copy up to 18 GB/min*
Real time copy and compare technology to ensure successful and complete copies.
 * actual speed might differ depending on your drive capability 
Specifications:
| | |
| --- | --- |
| Operating Type | Stand-alone (No PC Required) |
| Number of Targets | Up to 2 Target Hard Drive Copies |
| Supported Media | 3.5" SATA I or II Hard Drive |
| Transfer Speed | Up to 18 GB/min (300mb/Sec) |
| Power Requirements | 115V or 230V |
| Operating Temperature | 41°F ~ 122°F |
| Operating Humidity | 15% ~ 90% |
| Regulations | FCC, CE |